Key facts:
Dollarization in Argentina would reduce poverty, increase employment and raise wages.

Accountant Rufino said Argentina's dollarization cannot be completed in less than six months.
With the victory of economist Javier Millay in Argentina's presidential election, talk of dollarizing the country is no longer a utopian idea. One of the president-elect's plans is to eliminate the central bank (BCRA) that issues pesos and dollarize the economy. What would this look like?
Argentinian economist Natalia Motyl argued in an exchange with CriptoNoticias that "it is clear that an economy with a healthy currency and performing basic functions will bring a positive confidence shock, attracting capital from the rest of the world." This is what he believes The consequences of dollarizing Argentina without a central bank.
"To achieve growth, capital is necessary," Motil said, noting that if capital is not produced domestically, the government must attract capital from elsewhere in the world. To do this, he said, fundamental reforms are needed, including at the monetary level, to achieve a healthy currency.
Motyl believes that through currency reforms such as dollarization, not only can private sector predictability be guaranteed, but the problem of internal savings can also be solved.
Likewise, it emphasizes that interest rates should fall by reducing the risk of devaluation. He warned that this would enable cheap loans to be used for commercial and private projects, such as buying a house. "We will return to upward mobility," he said.
Private sector investment should therefore continue to increase, creating jobs, reducing unemployment, reducing poverty and raising real wages, the report concluded. "This way we can guarantee that there will be no problems in the financial sector and that growth will continue for many years," he concluded.
These remarks come as Argentina's economy is going through a delicate situation, resulting in population poverty and economic hardship.
The Argentine peso has depreciated to the point that if someone had 1,000 pesos in savings instead of $1,000 in 2002, they would have only $1 left today.
During 2023 alone, the price of the U.S. dollar rose by 200% in Argentina until it was trading at around 1,000 pesos on the informal market, which citizens have access to due to restrictions on legal buying and selling.
Meanwhile, the country's inflation rate is 142.7% per year, the third highest in the world after Venezuela and Lebanon. This situation has resulted in 40.1% of Argentina's population living below the poverty line today, with 10% in extreme poverty, according to the government statistics agency INDEC.
In this context, the U.S. dollar has reached its highest level in 20 years against the world's major currencies (euro, Swiss franc, Japanese yen, Canadian dollar, British pound and Swedish krona) since last year. ), as shown below, from the TradingView browser. This suggests that, while not immune to depreciation, it is certainly better able to retain its value than the Argentine peso.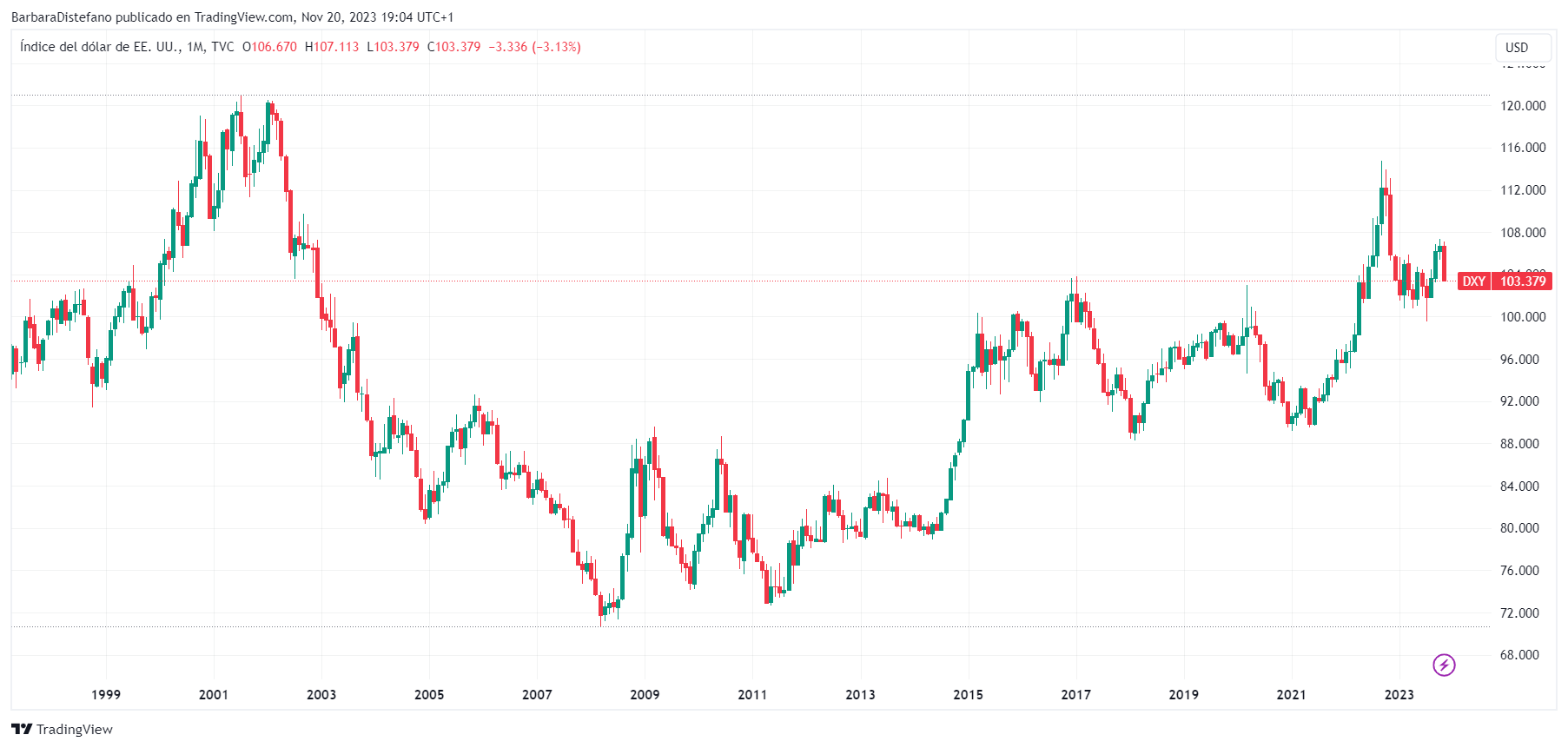 Here you can see the fluctuations of the US dollar against the world's major currencies. Source: TradingView.
Accountants say dollarization will have beneficial short-term impact
Looking at another perspective, Argentinian public accountant Federico Ruffino, a financial expert with a degree in management, told CriptoNoticias the question of what Argentina would be like without the central bank and dollarization. It means exploring a what-if scenario that goes beyond the present. information and circumstances.
"It is important to stress that any such analysis will be subject to speculation and differing opinions, as the consequences of such changes will be complex and difficult to foresee with certainty," he commented.
On the one hand, the accountant pointed out that the central bank plays a vital role in the national economy and is responsible for currency issuance, currency and foreign exchange supervision and other functions.
He elaborated that without a central bank, currency issuance and monetary policy may be decentralized or in the hands of private entities, which may create challenges in terms of financial stability and inflation control as quasi-currencies may be issued. When provinces see funding being withdrawn.
Therefore, "I estimate that the BCRA will continue to operate in local currencies at least until fiscal surpluses are achieved at the state and provincial levels, so I do not see that reality in the medium term," he warned.
On the other hand, he explained that dollarization, which would mean adopting the U.S. dollar as the official currency, would eliminate Argentina's ability to control its own monetary policy.
"While this would stabilize inflation, it would also limit the country's ability to adjust the economy in response to macro events," he said. However, he believed that the eventual abandonment of local monetary policy was due to Argentina's mismanagement of internal and external shocks. advantageous.
Rufino believes that the dollarization process will start with the liberation of the currency market and involve the free circulation of financial assets. To do this, this suggests the need for profound monetary and fiscal reforms, which cannot be accomplished in less than six months.
As an accountant, he estimates that all these measures are beneficial because they help reduce extremely high inflation and distortions in relative prices due to exchange rates and customs barriers, which greatly complicate accounting forecasts.
Finally, he stressed that high inflation would undermine tax and accounting credibility, leading to a loss of economic competitiveness. Therefore, he hopes that any measures taken to improve Argentina's current fiscal and monetary outlook will bring favorable results for the economy in the short term.
In principle, the market reaction to Milley's victory in the presidential election was muted and optimistic. At least that's what Wall Street's Argentinian stocks showed, opening higher on Monday, up as much as 40%.
Information source: Compiled from CRYPTONOTICIAS by 0x Information. The copyright belongs to the author and may not be reproduced without permission.