Original title: "Web3 Is Heading to the World Cup"
Written by: Robert Stevens
Compile: Kyra
For those users who are not satisfied with 90-minute football games, Web3 will enter the 2022 World Cup in Qatar, bringing more new experiences. There is even an encryption exchange sponsor Crypto.com among the official sponsors of the World Cup, in addition to many Web3 partners.
This article will list the various ways in which Web3 and the World Cup are currently combined: NFT-based football games, branded NFTs, and metaverses—for example, using avatars to watch games in the metaverse lounge—the above are just examples of how users participate in Web3 and the World Cup. There are several ways to cooperate.
FIFA+Collect
The World Cup is officially hosted by the International Federation of Association Football (FIFA), which until the end of the year is also a partner of PlayStation games. In September of this year, FIFA launched its own NFT platform FIFA+ Collect on the Algorand chain, which will also usher in the World Cup.
FIFA+Collect has similarities to NBA Top Shot. The latter is one of the early driving projects to usher in NFT Summer in 2021, a card collection game platform. FIFA+Collect also uses the highlight moments in the history of the FIFA World Cup as NFTs, allowing fans to collect and own them. It can be understood as a virtual card game based on NFTs.
World Cup-themed NFTs are now available for purchase. The Drop 2: FIFA NFT, priced at $4.99 each, contains highlights from past World Cup matches, highlights of male and female players on the NFT, and exclusive artwork.
Romy Gai, FIFA's chief commercial officer, said in a statement that these NFTs "give fans the right to own part of the content of the World Cup." He added: "Like memorabilia and commemorative stickers, this is an opportunity for fans around the world to interact with their favorite players on a new platform."
In May, Algorand became FIFA's official blockchain partner, a supporter of the North American and European World Cups in Qatar in 2022, and an official sponsor of next year's Women's World Cup in Australia and New Zealand.
african village
"African Village" is a small festival related to the FIFA World Cup, taking place both at stadiums in Qatar and online. African Village is working with UNDP Africa and the Development Intelligence Center to bring African metaverse content to the World Cup.
The offline segment includes lounges in the hotel park and six days of live music concerts. The lounge and associated events are "an inclusive global event for all football fans and those interested in African culture," said Hashmel Osuman, founder of Incredible Spaces, which manages the online portion of the event.
The online activities are mainly selling NFTs of African football stars. The collection was launched at the opening of the World Cup.
Why bring NFT to the World Cup? Quite simply, Osuman told CoinDesk: "The World Cup is one of the most watched events in the world," and the eyeball economy means big business, even for those who can't come to Doha.
Budverse x FIFA World Cup
Put on your beer goggles and enter the Budverse metaverse, where anyone old enough to buy a beer can participate in the minting of dynamic NFTs that change with match scores. The NFT represents the holder's chosen nation and is able to track the team's progress throughout the tournament. Cardholders can also enter a match and win tickets to the World Cup final and a football kit. Budweiser partnered with Gary Vaynerchuk's consultancy Vayner3 Web3 to develop the World Cup series, which launches October 13.
World Cup NFT is the latest collaboration project of Budverse. Previous projects include a traditional beer can NFT and an artwork NFT, which allows holders to support one of 22 Budweiser-sponsored artists. The minting cost of this game results dynamic tracking NFT is $100, but beer can NFT holders can mint a World Cup game tracking NFT for free.
FIFA Metaverse
It's time to wake up, boot up your PC and play kid-friendly Roblox, as FIFA builds its own metaverse in the hugely popular block-based sandbox game.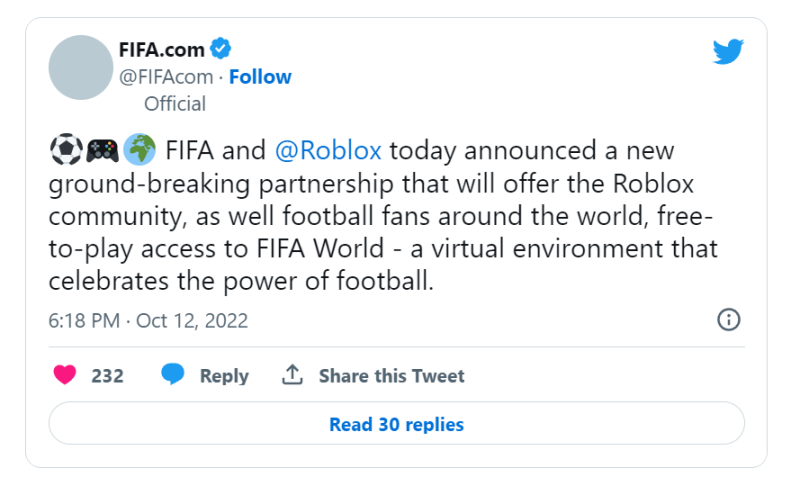 Once inside, players can play mini-games like Adventure Soccer, a crazy golf game, and Adidas Footbowling.
Only the bravest will attempt the FIFA World Jumping Race or the VISA Sticker Shop. But they have to do so in order to receive exclusive rewards and "interact" with the FIFA World Cup mascots, which may include Spain midfielder Pedri and Germany midfielder Lena Oberdorf.
This metaverse has no apparent cryptographic component, and includes a live lounge where avatars can watch games together. According to Gai, this is an example of how Web3 can create virtual inclusion as well as gameplay.
Disclaimer: This content is the author's independent opinion, does not represent the position of 0x Finance and Economics, and does not constitute investment advice, please treat it with caution, if you need to report or join the exchange group, please contact WeChat: VOICE-V.
Source: Kyra