According to news from PANews on March 14, affected by the re-anchor of USDC, BTC also rebounded quickly after falling. According to data from CoinGecko, the current price of BTC is about $24,305, a 20.35% increase from the short-term low of $20,195 on March 11, and an increase of more than 9% in the last 24 hours, an obvious increase.
Affected by this, the proportion of tokens currently in a profitable state has also increased synchronously. According to data from glassnode, the number of profitable tokens accounted for about 73.42% of the total circulation on March 13, close to the highest proportion this year.
In the context of the changing external financial environment, compared with gold as a traditional safe-haven asset, BTC has performed better recently. According to the data of intotheblock, after standardizing the price performance of gold and BTC in the last three months with the same basis point (starting from 0), the current price performance of BTC is 39.36%, while the price performance of gold is 7.57%. , the value of BTC in the same period is larger, that is, the return on investment of BTC is higher.

However, contrary to the high negative correlation between the price performance of BTC and the U.S. dollar index in the past (that is, when the U.S. dollar index weakens, BTC strengthens), the current correlation coefficient between the two is only -0.28, which is basically irrelevant. And from the trend point of view, since February this year, the correlation coefficient between the price performance of BTC and the U.S. dollar index has fluctuated in the range of ±0.3, that is, the correlation between the two has gradually weakened to basically no correlation.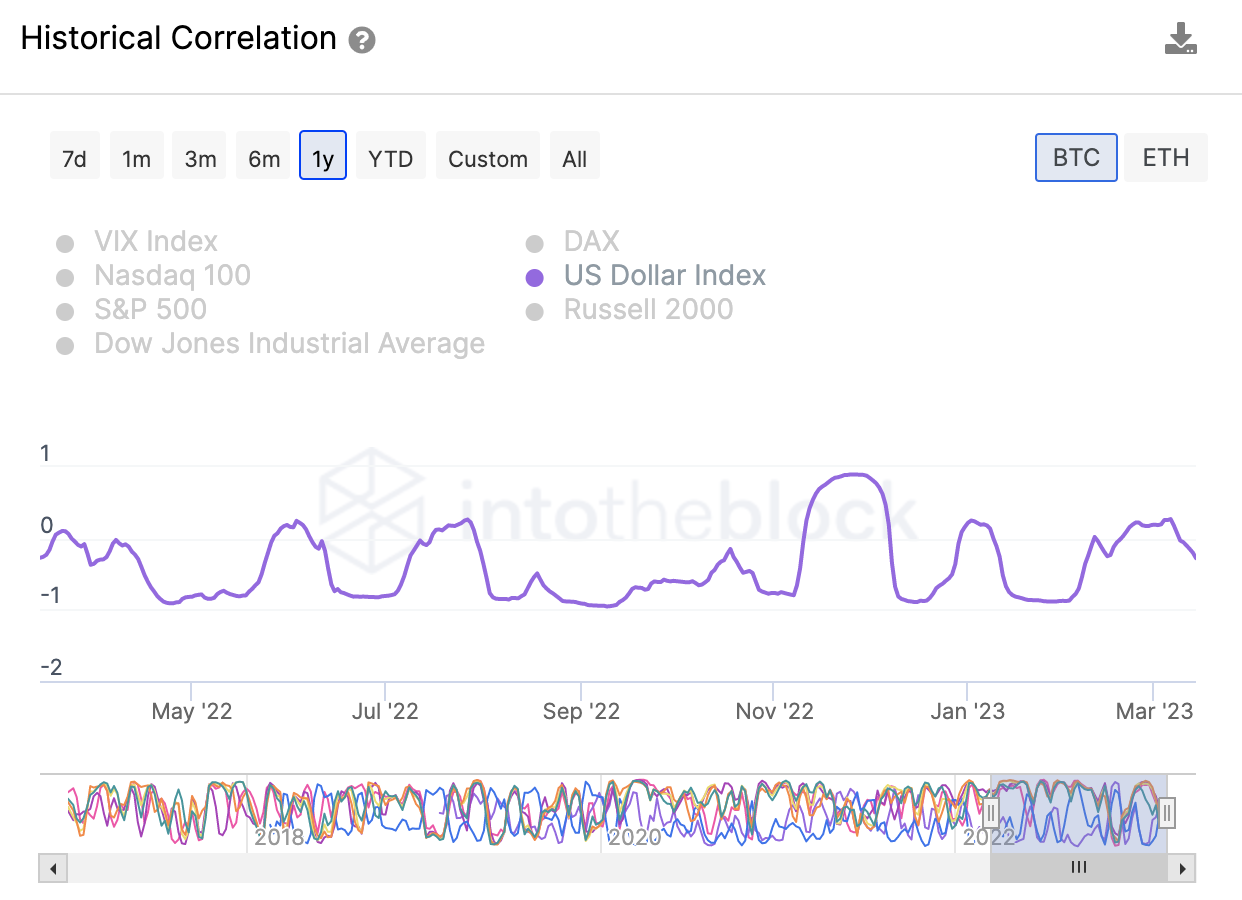 As far as the encryption market itself is concerned, a trend worthy of attention is that the return on long-term holdings (more than 155 days) has increased relative to the return on short-term holdings (more than 1 hour but less than 155 days). According to CryptoQuant's data, the SOPR ratio (long-term SOPR/short-term-SOPR) was about 0.96 on March 13, and less than 1 means that short-term currency holdings are still dominant. However, judging from the trend of the 7-day average, since this year , the SOPR ratio is in a significant upward trend, that is, in the trend of increasing long-term currency holding income, which may mean that the market is turning to α logic.