Original title: A Brief History of NFT Marketplaces
Original compilation: Leo, BlockBeats
The NFT market industry is a highly competitive industry.
What started with just a few players has grown into a thriving industry, with new entrants competing for the same lucrative slice of the pie every time.
MOOAR, an emerging NFT marketplace whose parent company is Find Satoshi Lab (FSL), the developer of Stepn. Following the release of its welcome Web 3 lifestyle app, FSL drove the move-to-earn industry, followed by DOOAR, which soon became Solana's largest decentralized exchange (DEX).
Currently, the FSL team is launching its own NFT marketplace. But how can a new entrant like MOOAR gain a foothold in a market filled with established competitors?
Fierce competition
For entrants who cannot keep up with the frenetic pace of innovation, the competition between NFT markets can be a fierce and brutal process, and there is no so-called "safety" in the NFT market.
The largest NFT market—Ethereum's OpenSea—has the largest share of transaction volume. But in recent months, the late entry "potential stock" X2Y2 has slowly taken away the trading volume from OpenSea and surpassed OpenSea in the most recent quarter.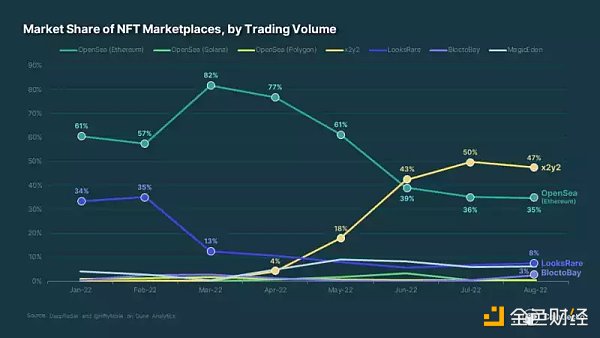 We are witnessing a similar dynamic cycle of dominance in the Solana ecosystem.
Magic Eden currently accounts for 70%-80% of Solana's NFT trading volume, while the second most popular market (Yawww) has only accounted for 15% in the past month, but the temporary advantage is not sustainable. Before the advent of Magic Eden, Solanart owned Solana's NFT share, and in the third quarter of 2021, after the large-scale launch of Degenerate Ape Academy, it sold 10,000 ape within 8 minutes, quickly entering the mainstream.
It was then that SOL surged to a high of $260 in November. It was reported on YouTube at the time.
Note: It is still interesting that Solana, the chain eager to disrupt Wall Street with its staggering throughput, ended up being dubbed the ultimate nft chain in the bull market.
Unfortunately for Solana, that didn't last long.
How did Magic Eden beat Solanart in a month and become the leader in the Solana NFT market in just a few months?
Will X2Y2 repeat history on Ethereum and continue to fight OpenSea's dominance?
Can Team STEPN's MOOAR compete with Magic Eden?
To address these questions, we need to understand why and how these past milestones occurred.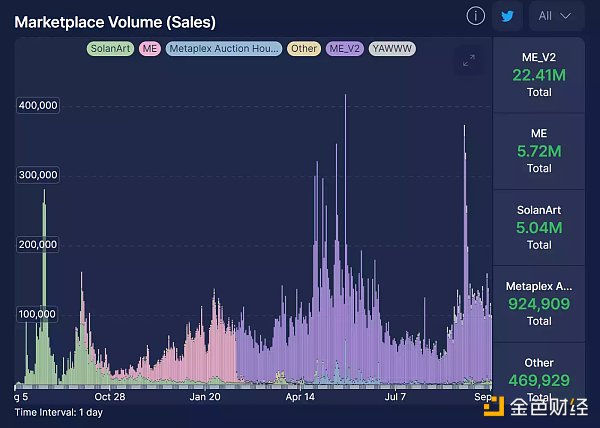 humble beginnings
Many are familiar with how the NFT craze started on the Ethereum blockchain, with CryptoKitties, CryptoPunks, and the Bored Ape Yacht Club (BAYC) driving the start.
Solana NFTs start around March 2021. Some ogs within this market are Kreechures and solarians. This is followed by the first Generative Art based Solana Monkey Business (SMB) and of course the Degenerate Ape Academy (DAA) launching in August 2021, bringing Solana's nft into the limelight and creating a The new "blue chip" nft.
In the early days, Solanart was the dominant marketplace on Solana (this was only a year ago). Launched in June 2021, it quickly became a badge of honor for logins on the platform's homepage.
The rise of Magic eden
Subsequently, Solanart became the yellow flower of yesterday. The reason everything changed so quickly: Magic Eden. A year later, Solanart was pushed from the market king to only 3% of Magic Eden's average daily trading volume. Like I said – cruel.
How does Magic Eden do it?
The ambitious team got to work quickly. What started out as a very basic marketplace quickly evolved into a very comprehensive NFT platform that makes it easy for creators and traders to grow, and easy means adoption.
Magic Eden also took:
– Active Twitter backed by an AMA with founder participation
-Marketing at scale in Solana events
– Ongoing new features and platform updates;
– Internal account manager for NFT projects.
These positives — combined with strong community support — contributed to Magic Eden's rise and subsequent dominance, a successful scenario.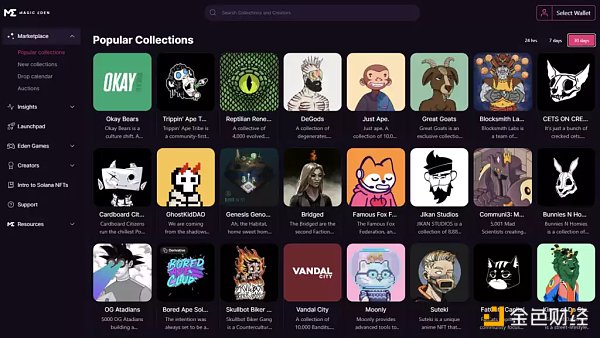 In fact, this meteoric rise is not without controversy.
We saw continued technical issues like platform crashes after every mint and the infamous Balloonsville rug, which eventually pushed Magic Eden to harden their launchpad rules. Then there's the recently normalized creator royalty war and the debacle of the platform's recently launched MetaShield NFT tool.
The space of two giants
Just as X2Y2 skyrocketed on Ethereum and now almost reaches 70% of OpenSea's monthly trading volume, can Solana hold two tigers in one mountain? Or is Solana too small for both?
Multiple markets will always exist, humans grow up in familiar environments, so there will always be users who end up loyal to certain markets for comfort and convenience, no different than why you always go to your favorite grocery store, even if there is another Cheaper stores are also close to you.
I think it seems reasonable for the two dominant NFT market value propositions to exist at the same time if they have different value propositions, that is, they could both offer something different from each other.
For example, OpenSea remains the most liquid NFT market due to its inherent popularity as an established market. On the other hand, we're seeing a considerable number of users flocking to marketplaces like X2Y2 as they "gamify" the entire trading experience – from the ability to wager native tokens, to handing out trading rewards, to trading for no "build" "NFT projects offer novel exemptions to bypass royalties.
This stark difference in expectations and functionality has opened up multiple consumer niches that OpenSea and X2Y2 and even LooksRare occupy respectively. Different marketplaces provide users with unique identities and capabilities. So for a new market that challenges Solana's status quo, it needs Magic Eden to fill its scarcity.
Talk about MOOAR: Challenger emerges from the shadows
Many people are familiar with STEPN, an M2E app developed and extended by the talented team at Find Satoshi Lab (FSL). In less than a year, FSL has already attracted over 1 million users to Web 3 across Solana, BNB Chain and Ethereum.
Click for details on STEPN and FSL.

Now, the team is launching their own nft marketplace, MOOAR, but what is MOOAR's unique selling point?
Creator-first fair royalties
The industry is moving in one direction: Fairly compensating creators for their efforts may be optional. MOOAR refuses to take part in this competition and aspires to be a "beacon" in support of what creators pay, and creators will be able to set their own royalties at a reasonable level.
This is in line with MOOAR's focus on being the platform of choice for those looking to launch a family of PFP NFTs, either standalone or as part of their roadmap. PFP collectibles are art in nature, which guarantees royalties to the artist. That's only fair.
The goal of FSL is to promote a virtuous circle, when NFT creators get better under MOOAR, they will be more willing to create better content to encourage remaining members. This creates a positive feedback loop that positions MOOAR as a platform known for quality projects, with a loyal user base and a loyal base of creators who can rely on passive income to sustain their work.
A form of synergistic loyalty between users, creators, and platforms, but will members really be willing to pay royalties if they no longer have to pay royalties to compete with other members for premium content? Great question! This inspires the next unique selling point.
Zero service fee subscription model
How does MOOAR balance creators and users? The former wants to be paid fairly for their work, while the latter may not want to pay any royalties!
I mean, we all love creators, but times are kind of tough, right? MOOAR has launched a zero-fee subscription model for the NFT marketplace. Instead of paying a fixed monthly subscription fee to use the platform, members will save money by paying a 0% service fee for trading NFTs on MOOAR. This means that whether you are doing bulk transactions of cheaper NFTs or exchanging a single Bored Ape (60+ ETH), you will save a lot of money.
Just like an exchange offering very low crypto trading fees or a brokerage firm with low spreads, the zero-fee subscription model gives MOOAR members the freedom to exchange NFTs as they wish.
This also opens the door for FSL to offer additional rewards and interesting gamification programs in the future, such as an upgrade reward system. There has even been talk of integrating MOOAR membership into all FSL products in the future, although I expect this will take longer.
Exciting stuff.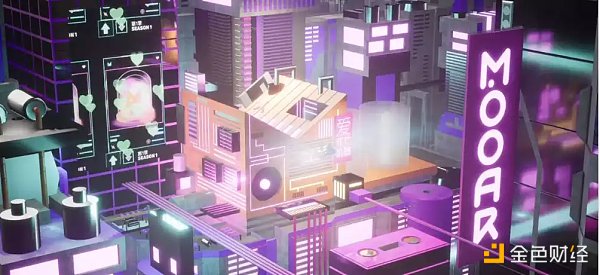 Finally, MOOAR's unique selling point even extends to their launchpad.
Community-driven "themed" launchpad
The concept of launchpad is similar to private equity and venture capital in traditional finance, except that ordinary people like you and me can participate in it and democratize finance for the little people!
The idea is to give launchpad participants a chance to buy new projects before they hit the market — often at super-cheap prices. Click to learn about YouTube
Likewise, many NFT marketplaces offer a launchpad service where creators can launch their new NFTs, and it's interesting that MOOAR has a unique take on the launchpad concept.
Instead of waiting for projects to approach them, they limit project releases to a specific topic each "season". This could go on for several months.
Web 3 teams can conceive projects that fit the theme and submit them to the MOOAR team for publication. MOOAR members holding GMT can vote for their favorite project. Each quarter's community-led winners then have the opportunity to be published on MOOAR's dedicated launchpad, where the winner provides a full suite of marketing and technical support for the project before and after launch. MOOAR's litepaper
Epilogue
The NFT market is constantly evolving, and it is only a matter of time before a serious competitor arrives to compete with Magic Eden for a lucrative market share, especially on Solana, the chain of choice for NFTs.
Will it be MOOAR? It remains to be seen.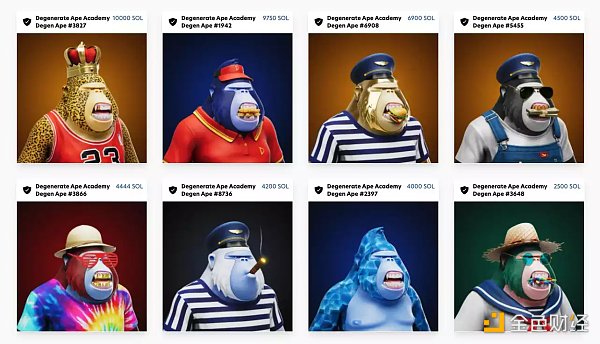 I would say that the FSL team that built STEPN has the talent, technology and track record to build and scale groundbreaking startups in a short period of time.
In addition to the considerable financial backing from STEPN and DOOAR, coupled with FSL's growing team of driver developers, engineers, marketers and content authors, I think MOOAR has the potential to go head-to-head with Magic Eden.
The team is determined to immediately differentiate itself from the competition by leveraging its set of unique selling points (creator-first royalty policy, zero-fee subscription model, main community-driven "theme-style" launchpad).
The NFT market industry is about to enter a white-hot!