Original article: "Crypto-friendly banks collapsed within a week, how the crypto industry can ease the liquidity crisis"
Author: zf857.eth
Silvergate and SVB Collapse the Encryption Industry
After a turbulent year, Silvergate Capital, the holding parent company of U.S. cryptocurrency-friendly bank Silvergate Bank, announced at the close of U.S. stocks last Wednesday that it will orderly end its operations in accordance with regulatory procedures and voluntarily liquidate bank assets.
Silvergate's annihilation has spread to more traditional financial institutions, triggering a bigger liquidity crisis. On March 8, US time last week, Silicon Valley Bank (SVB), one of the oldest and cryptocurrency-friendly banks, announced that it was in financial trouble. Last Friday, the California Department of Financial Protection and Innovation announced that it had officially closed Silicon Valley Bank, and the FDIC was appointed as the bank's receiver and took control of its deposits. This marked the official collapse of the bank, making it the largest bank failure in the United States since the global financial crisis. In this crisis, there are still more small and medium-sized banks losing their foothold in the wave of interest rate hikes by the Federal Reserve.
The collapse of Silicon Valley Bank (SVB) caused global investors to panic, and many well-known blockchain venture capitalists (VC) held assets worth more than $6 billion in SVB. Despite the U.S. government's intervention, promising depositors at Silicon Valley Bank to get their deposits back, the value of the crypto banking entity's equity and debt was almost wiped out. On November 16, 22, Block.one and its CEO held a total of about 16.8% of Silvergate's shares, and currently theoretically have a floating loss of over US$70 million in Silvergate stock investment
The annihilation of SVB and Silvergate, the two federally insured members of the Federal Reserve System, also caused many knock-on effects in the cryptocurrency ecosystem, ensuing a crisis of confidence, with Circle, the issuer of the USDC stablecoin, depositing $3.3 billion in SVB Uncertainty caused USDC to decouple over the weekend, reaching as low as 0.889.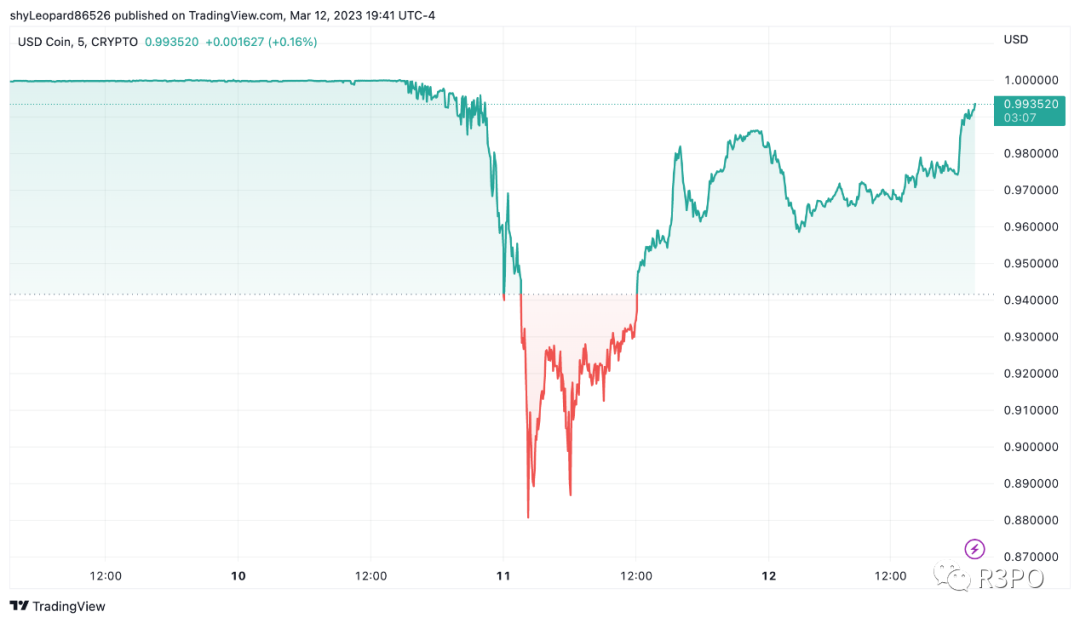 R3PO's article in January, "Crypto-Friendly Banks, Silvergate Explodes Abra Suffers", had a corresponding analysis and prediction on this and mentioned that 2023 may be the end of more crypto-friendly banks.
Signature Bank – the second financial institution to be closed after Silicon Valley Bank
U.S. regulators announced late last Sunday that the closure of Signature Bank, a regional bank headquartered in New York, and the U.S. Treasury, Federal Reserve, and FDIC said in a joint statement: Systemic risk exception, the bank was closed today by its state charter agency."
Signature Bank has reduced the risk exposure of the cryptocurrency market in advance but still has not escaped. From February 1, 2023, it will no longer support any cryptocurrency exchange customers to buy and sell less than 100,000 US dollars, for all cryptocurrencies This is true of exchanges. The above statement confirms Signature Bank's determination to reduce its exposure to the crypto asset market, and Signature Bank will only process transactions exceeding USD 100,000 for Binance. In December 2022, Signature Bank also stated that after the cryptocurrency exchange FTX exploded, the bank was withdrawing from the cryptocurrency field on a large scale, intending to reduce up to 10 billion US dollars in crypto asset customer deposits. Signature Bank also reiterated in its quarterly report on March 2 that it currently does not make loans against crypto collateral, invest in Crypto assets, or hold Crypto assets for any customers.
But why is Signature Bank still shut down by regulators? According to the Wall Street Journal, as early as January at the beginning of the year, the U.S. Federal Home Loan Banking System (FHLB) provided a total of more than $13 billion in loans to the two largest cryptocurrency banks, Signature Bank and Silvergate, to ease the liquidity caused by the surge in withdrawals. crisis impact. It is reported that the entity provided nearly US$10 billion in loans to Signature Bank in the last quarter of 2022, making it one of the largest borrowing transactions in the banking industry in recent years. In addition, Silvergate has received at least $3.6 billion in loans from FHLB. It can be seen that the liquidity crisis of these two well-known crypto-friendly banks has already begun to emerge after the FTX thunderstorm incident.
The cryptocurrency industry is deeply in the fiat currency liquidity crisis
The first point worth highlighting is the Silvergate Exchange Network (SEN), which has played a key role in facilitating the transfer of non-blockchain funds between large investors and cryptocurrency exchanges. Silvergate launched SEN in 2018, and the platform saw rapid mass adoption, with transaction volume reaching nearly $800 billion for the full year of 2021. Almost every major U.S.-based cryptocurrency exchange became a client of Silvergate and began moving funds through the network. For cryptocurrency traders, the technology appears to have been a game-changer, serving as a convenient bridge between traditional finance and the cryptocurrency ecosystem.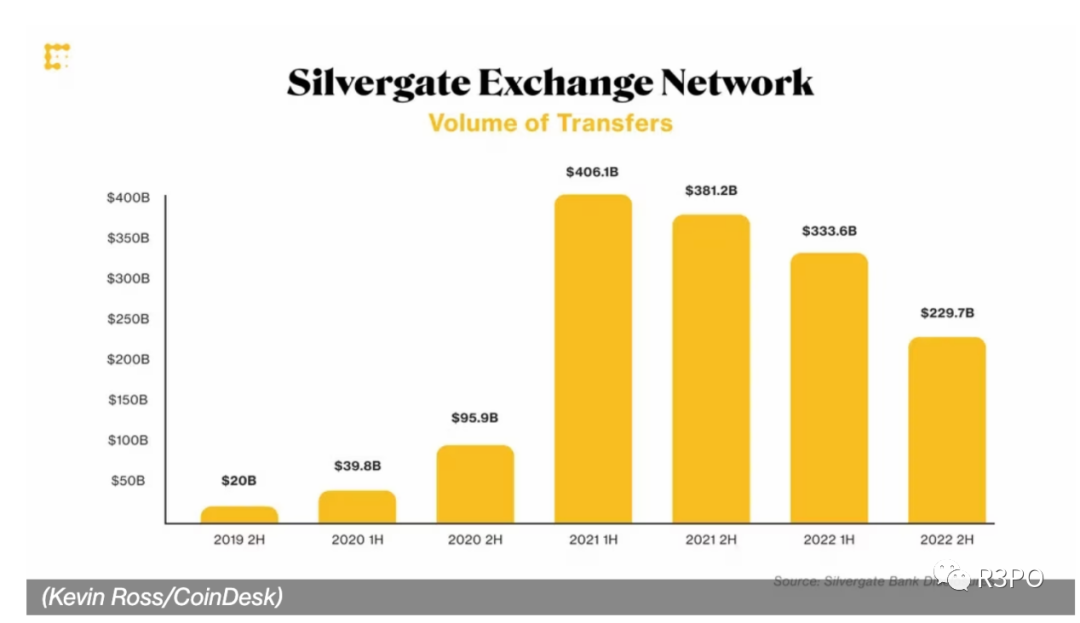 With Silvergate entering voluntary liquidation last week, JPMorgan had predicted customers would migrate to Signet Bank's Signet payments network. Cryptocurrency companies can use APIs to incorporate the Signet network into their platforms. However, Signature Bank is currently not immune to this.
When USDC, as the bottom asset pricing infrastructure of the cryptocurrency industry, has been decoupled, it once again shows the vulnerability of stablecoins. When everyone finds that decentralized finance will still be affected by centralized financial conditions and lose value, it is likely to consider increasing the pursuit of legal currency. But when the crypto industry loses two major crypto-friendly banks, Signature and Silvergate, crypto companies lose a major key access to fiat currency. There are now very few options for fiat deposits and withdrawals for crypto companies, and it will be difficult for any new crypto company to obtain a new bank account. Until new banks step in, fiat-to-crypto liquidity in the crypto industry will be severely limited.
R3PO believes that as a nascent cryptocurrency market infrastructure, the core value of the blockchain transaction network is huge, and the suspension of the SEN platform and the Signet payment network will undoubtedly cause further damage to the current tight liquidity in the cryptocurrency market. But for other competing banks, this is undoubtedly a potential opportunity. They have the opportunity to step in quickly at this time to fill the vacancy and dominate the cryptocurrency business. Now there are only Customers bank and Sygnum left in the global crypto bank in the United States, and there are seba bank, deletc bank and BCB in other regions.
The encryption industry actively rescues itself, and the crisis breeds vitality
Circle, which is at the center of public opinion, issued a statement today saying: "100% of our deposits in SVB are safe and will open for business tomorrow. 100% of USDC reserves are also safe and reliable, and we will complete the transfer of the remaining SVB cash to BNY Mellon. As previously mentioned, USDC liquidity operations will resume when banks open tomorrow morning. With the closure of Signature Bank announced tonight, we will not be able to process minting and redemption through SigNet, and we will rely on BNY Mellon settlement .As soon as tomorrow we will be introducing a new transaction bank partner with automated minting and redemption capabilities. We are committed to building robust and automated USDC settlement and reserve operations with the highest quality and transparency."
Coinbase issued a statement saying that "Despite the recent turmoil we have seen in traditional banking, Coinbase continues to operate as usual. At Coinbase, all customer funds continue to be safe and accessible, including USDC conversions that will resume on Monday. All customer cash at the bank Continues to be protected by FDIC pass-through insurance. Due to the FDIC suspension of transactions at Signature, we are currently facilitating all customer cash transactions with other banking partners."
While the closure of two crypto-friendly banks, Silvergate and Signature Bank, has caused crypto capital markets to go back to pre-2014 — with no chance of any newly formed companies having access to banking relationships, cryptocurrencies have officially become unbanked. However, the regulatory failure and financial crisis of centralized financial institutions will stimulate more reliance on crypto native capital and belief in crypto native assets such as Bitcoin. In the future, the blockchain industry will reduce its dependence on US dollar stablecoins and expand the blockchain payment network. The versatility and stability of R3PO will add more payment scenarios that directly use cryptocurrencies, so as to reduce the dependence on centralized financial institutions. R3PO firmly believes that a completely decentralized bank will be born in the future, In Trustless we Trust.