Mar. 2023, Daniel
Data source: NFT Aggregators Overview & Aggregator Statistics Overview & Blur Airdrop
A year ago, the volume of NFT transactions through aggregators began to snowball, sometimes surpassing the volume of transactions directly through marketplace platforms.
While aggregator usage dipped from October to January, Blur.io has since exploded in 2023, even engaging in a public standoff with OpenSea over royalties.
This month, Blur surpassed OpenSea in transaction volume and had a massive airdrop event.
Blur Aggregator Trading Volume vs. Marketplaces
Over the past year, Footprint Analytics has been reporting on the rise of aggregators. However, what are these platforms and what value can they bring to the market? What is the Blur Airdrop giving away 300 million Blur Tokens? How is Blur doing relative to its competitors judging by this airdrop?
What is an NFT Aggregator?
NFT aggregators are platforms or websites that curate and showcase NFTs from different marketplaces, allowing users to browse and discover NFTs from different sources in one place. They aggregate NFTs from multiple blockchains and marketplaces, such as OpenSea, Rarible, and SuperRare, and present them on a unified, user-friendly interface.
NFT aggregators often offer various features, such as search and filter options, customizable watch lists, and price alerts, to help users find NFTs that meet their criteria. Some NFT aggregators also offer services such as portfolio tracking, NFT valuation tools, and social features that enable users to interact with other NFT aggregators.
Blur holds most of the market share
Blur's functionality is expressly tailored for expert NFT traders and speculators. Blur has zero transaction fees and incorporates sweeping features—that is, buying many NFTs at their reserve price—such as advanced bulk buying.
Other trader-friendly features include trade analysis and item identification, and listing of items. It also claims to be faster than marketplace platforms and other aggregators.
In a bear market with little public interest in NFTs but continued activity by insiders and traders, Blur's positioning and technology allow it to outperform more beginner-friendly platforms.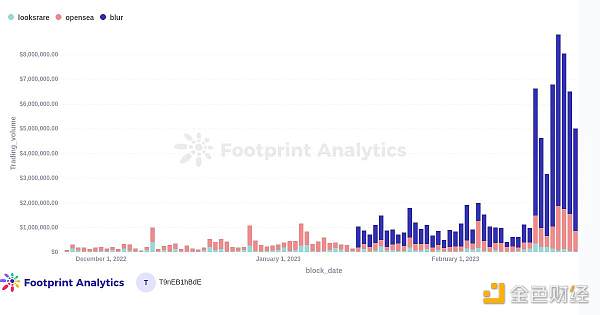 Blur Aggregator Trading Volume by Marketplace
Besides its functionality, its massive airdrop is an important part of its marketing strategy.
What is Blur airdrop?
One of the factors fueling Blur's popularity is its long-delayed airdrop, which was delivered this month. According to Footprint, more than 26,000 new users have been brought to the Blur marketplace since February 14, accounting for 22% of the total traders on the platform.

Additionally, over 20,000 of these new users were brought in from other markets, making the airdrop a successful vampire attack.

Blur launched its first round of airdrops on February 14th, delivering "care packages" that can be exchanged for BLUR USD to everyone who has traded in the previous 6 months. The second round of airdrops is for traders who are actively listing on Blur before November. Airdrop 3 will be for traders who bid on Blur, and will be the largest Blur airdrop (about 1-2 times that of Airdrop 2).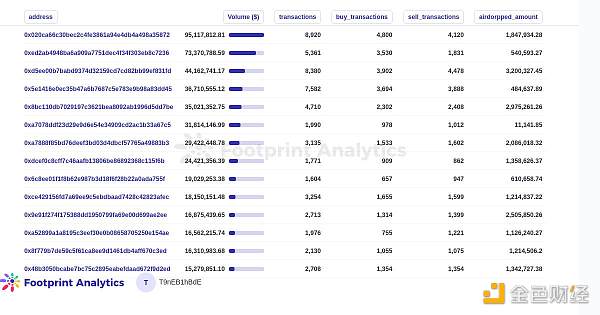 Transaction Volume of Blur Airdrop Addresses
The total amount of BLUR dollars distributed is 360 million, of which 94% have been claimed. While most recipients received less than 1K in their wallets, 4.7% received 10K-100K. On February 22, the price of $BLUR was $1.06.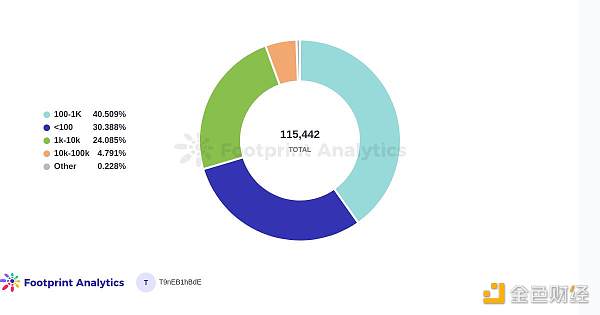 Blur Airdropped Distribution
The number one address, which hit a staggering $95 million in volume on Blur, received 1.8 million. However, the largest airdrop recipient ($3.2 million) had a volume of $44 million.
Competition Between Blur and Competitors in 2023
Since January, Blur's transaction volume has grown to 94% of the aggregator's market, compared with 6% for OpenSea rival Gem. Gem's target market is similar to Blur's, experienced traders.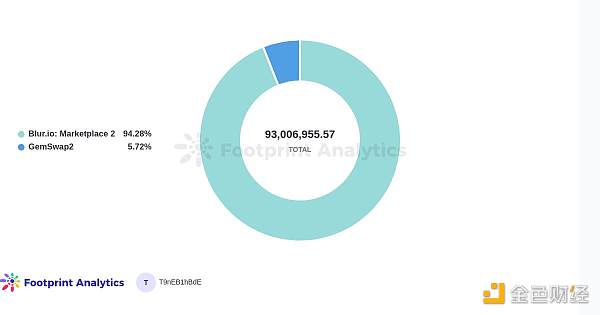 Gem Vs. Blur (2023)
Earlier this year, Gem appeared to have a realistic chance of becoming a top aggregator, with around half the transaction volume of Blur on some days. However, since the airdrop began, Blur has completely surpassed Gem.
Interestingly, around 15% of the trading volume is done by the top 15 traders using the platform.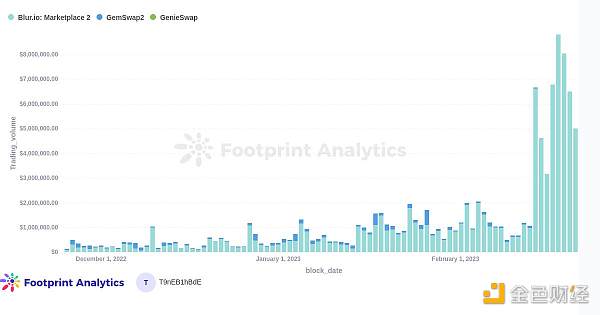 Aggregator Daily Trading Volume (Share)
This article is contributed by the Footprint Analytics community.
Source: The Way of DeFi