On March 16, 2023, ABGA's first phase of the Start-up Showcase online roadshow was successfully concluded. Earlier, the ABGA team upgraded the brand of the ecological project docking meeting. The new version of the Start-up Showcase is held every month. In each session, 10 excellent Web3 game teams from inside and outside ABGA members will conduct roadshows. This series of activities aims to provide an excellent display opportunity for track innovation projects, and also to build a bridge for exchanges and cooperation between institutions and projects.
On the afternoon of the 16th, 10 outstanding teams brought wonderful project presentations. They are Acxyn, Mirror Planet, DanceFit, Glory Games, DIGI, Geno, BOXTradEx, Babel Universe, LinoSwap and YEET. The following is a brief introduction of the projects:
Acxyn
Acxyn is building critical economic infrastructure for games coming to Web3 that will not only simplify adoption of the decentralized web, but also unlock the true economic potential of games, allowing them to fully own their own revenue streams and gaming communities.
Mirror Planet
Mirror Planet is a Web3 metaverse game using augmented reality technology. The game is designed as a replica Earth, with real streets and buildings. It encourages players to bring their real lives into the game and gain financial benefits from exploring the outdoors.
DanceFit
DanceFit is a Web3 social gaming platform with three main categories of content – dance, create and share. DanceFit's vision is to innovatively improve the way humans live everyday, making exercise more fun and social, while bringing people together in the metaverse.
Glory Games
Glory Games aims to bring the authenticity of games to the public, building a metaverse that connects the community through offline AR treasure hunts and online competitive games.
DIGI
DIGI is a Metaverse for users to build, experience and connect. DIGI combines metaverse construction, games and social networking, and is powered by web3.0 technology to provide users with a seamless login process from web2.0 to web3.0.
Geno
Geno is the first interoperable, intelligent and scalable data infrastructure that enables the next billion web3 users. The real-time multi-chain data infrastructure will support complex indexing and custom analysis, enabling sustainable growth in project development and operations, and making Web3 projects develop better, easier, and faster.
BOXTradEx
BOXTradEx is a one-stop crypto application that includes an exchange, an NFT trading market, and game guild management tools for renting and borrowing NFTs.
Babel Universe
BabelDAO is a Decentralized Autonomous Organization dedicated to creating Story Universes (IPs). Starting with its first project "Babel", Babel Universe is building a new way for stories to be created, owned and tokenized.
LinoSwap
As an NFT/SFT automatic market maker, LinoSwap is characterized by Rarity-friendly, friendly to creators, and supports better composability. LinoSwap has greatly expanded the range of NFTs that NFT AMM can apply.
YEET
Yeet is a social avatar platform powered by AIGC based on Web3 Infra. Users can customize their avatars through DID and SBT to represent their own personality, chat with friends, initiate virtual activities, etc.
ABGA ecological members, institutions, media, investors, and industry enthusiasts from the web3 industry participated in the roadshow.
Up to now, more than 40 leading institutions in the industry have become members of ABGA ecological institutions, they are: (in no particular order) Huobi Ventures, KuCoin, Polygon, The 9, Protocol Labs, Yield Guild Games (including YGG SEA and Infinity Ventures Crypto), Bitrise Capital, Chain Capital, Avatar Capital, Waterdrip Capital, Spark Digital Capital, Enjinstarter, MEXC Pioneer, Plutus. VC, MetaEstate, Mint Ventures, FBG Capital, Koi Capital, Cryptomeria Labs, Westworld Capital, Hatten Edge, BKEX, IOST (Big Candle Capital), Monsta Infinity, Klaytn & Krust, CryptoBuddy, NFTb, MetaGame Arena, IBG, Atlantis Metaverse, Cast Box, Klaydice, Fantaverse, Lingose, UKISS, Lead Capital, 2140 Ventures, Bing Ventures, Mythic Protocol, X Rush, DeepBrain Chain, Mirror Planet (in no particular order)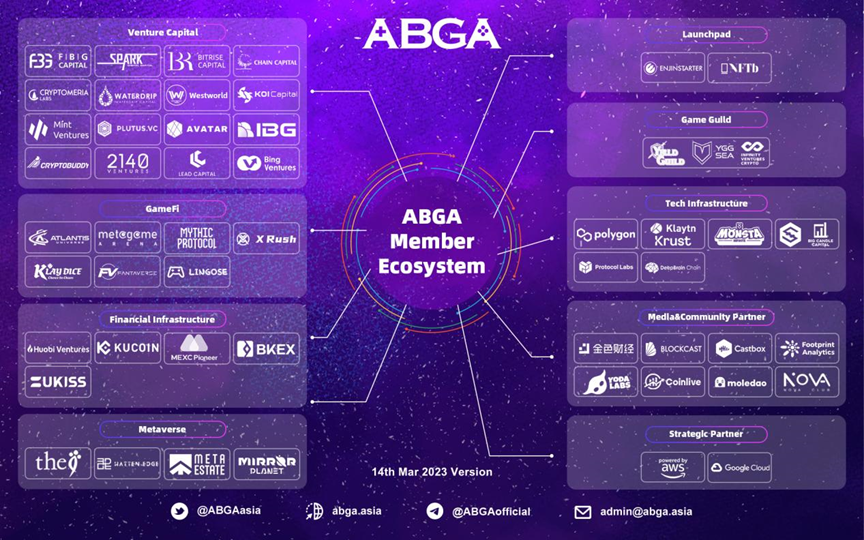 ABGA hopes to discover more imaginative and creative early start-up projects in the industry through the Start-up Showcase series of activities, give the best attention and support, and jointly promote the ecological development and future of chain games/Metaverse/NFT and other tracks building.
@This event is exclusively supported by HotcoinEx. HOTCOIN GLOBAL was founded in Australia in November 2017. It is a world-renowned Crypto asset financial service platform that provides 24-hour professional Crypto asset trading services to the world.
@Asia Blockchain Gaming Alliance (ABGA) is a non-profit blockchain game alliance, co-sponsored by leading institutions in the game industry, with the aim of gathering industry information, screening outstanding teams and companies, broadening investment horizons, and promoting blockchain games Industry development, helping high-quality projects and teams of Asian forces gain a foothold in Asia and go global!
Disclaimer: This content is the author's independent opinion, does not represent the position of 0x Finance and Economics, and does not constitute investment advice, please treat it with caution, if you need to report or join the exchange group, please contact WeChat: VOICE-V.
Source: ABGA