Written by: Ge Jiaming
After huge losses, investors began to turn their attention to the celebrities who had endorsed FTX. From Tom Brady to Stephen Curry to Shaquille O'Neal, these stars who have been "seriously injured" because of FTX's bankruptcy may continue to lose money because of related lawsuits.
On November 23, the media reported that some investors had sued these star fans to court, and the case was being tried in Miami and San Francisco. If these investors can confirm: the star did not disclose the endorsement when promoting FTX Fees, or tell investors that they are also one of the shareholders of the company, then these stars will be responsible for their publicity.
John Reed Stark, former director of the U.S. Securities and Exchange Commission's Office of Internet Enforcement, said that in general, celebrities tend to settle, so lawsuits against celebrities often result in huge damages, and now they have represented "thousands of consumers across the United States." Regarding the FTX celebrity-promoted suit, which has a long list of celebrities, Stark said:
It's one thing to get your fans to buy T-shirts with your face on it, it's quite another to lose them a huge chunk of their life savings because of your hype. Currently, Tomb Brady, Stephen Curry, Shaquille O'Neal and TV personality Kevin O'Leary are among the defendants.
Tom Brady: FTX is the safest
American football superstar Tom Brady was once an "iron fan" of FTX. In 2021, he reached an equity deal with his ex-wife supermodel Gisele Bündchen and SBF. While serving as FTX's brand ambassador and appearing in commercials, he will receive cryptocurrency in return .
According to FTX's announcement at the time, after the cooperation was reached, whether the husband and wife would receive equity and the specific amount of cryptocurrency was not disclosed, but it was confirmed that both husband and wife would receive a specific amount and type of cryptocurrency.
On June 29, 2021, in a tweet from FTX officials announcing Reddy as a brand ambassador, Brady said: "We have the opportunity to create something very special here." "The most incredible and exciting moment" and seeing infinite possibilities in FTX, he said:
SBF and his innovative FTX team opened my eyes to endless possibilities. This is a cherished opportunity to educate more people about the power of cryptocurrencies while giving back to society and the planet.
In 2021, Brady and his ex-wife filmed a promotional video titled "Tom Brady is In. Are you?" (FTX Crypto: Tom Brady is In. Are you?). Said: "I'm in, I want to tell everyone this good news." Consumers have said that the ad means that Brady encourages friends to join the platform.
In the introduction of the FTX official platform, it is still clearly written: Brady is using FTX as his own Crypto currency trading platform. He is one of the investors of FTX. Don't you come to use it?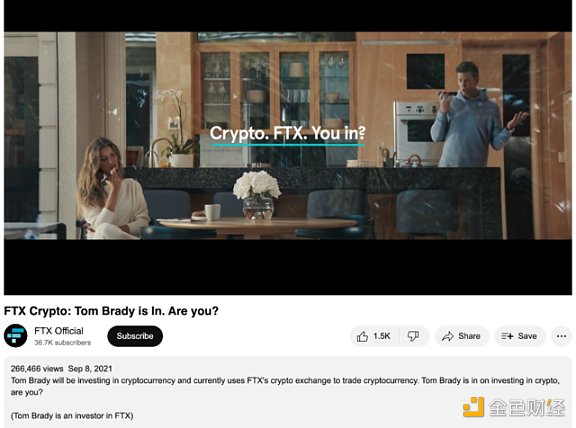 In another promotional video, Brady said "without shame": "FTX is the safest and easiest platform to buy cryptocurrency."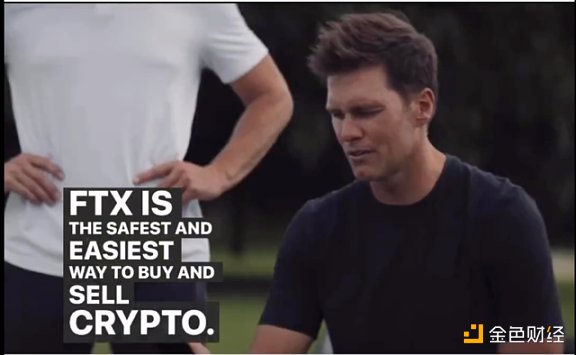 After FTX's sudden bankruptcy and thunderstorm, Brady cleared all comments about FTX on Twitter with great speed. But some words are not deleted by him. On July 4 this year, on the eve of the FTX celebration, Brady also tweeted "burning up", using his influence to advertise FTX from time to time.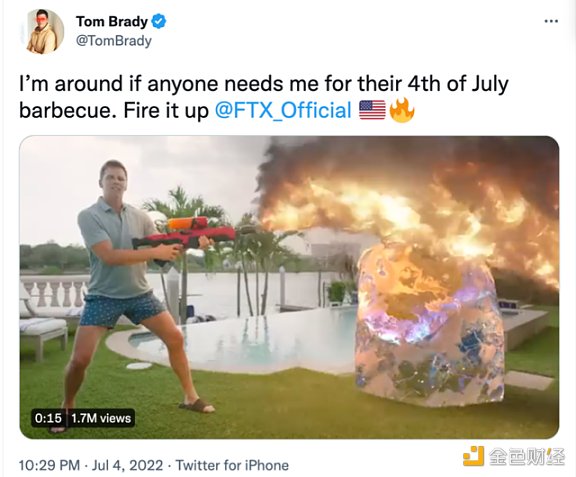 O'Neal: I'm all in, how about you?
With the demise of FTX, SBF's former friend and NBA star O'Neal who had a deep relationship with FTX also became the target of public criticism.
O'Neill said in the FTX promotional advertisement: "FTX helps everyone use cryptocurrency, I am all in, what about you?" Now it is accused of false propaganda by consumers.
Earlier this year, FTX sponsored O'Neill's weekend music carnival "Shaq's Fun House" during the Super Bowl. At the same time, FTX is also offering carnival prizes, offering discounts to guests who make crypto payments via FTX Pay. Event attendees also had the opportunity to meet O'Neill directly and receive $10,000 worth of Bitcoin.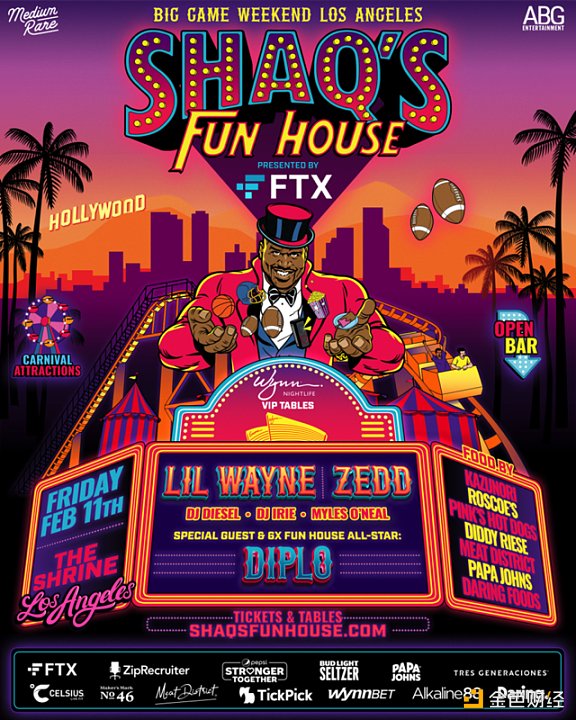 Stephen Curry: With FTX, I have everything I need to trade securely
The defending champion Golden State Warriors and its head star Curry have a deep relationship with FTX. According to media reports, the Warriors have now received two lawsuits related to FTX.
According to reports, the Golden State Warriors and FTX have cooperated since 2021, making it an officially recognized cryptocurrency and NFT platform. After the 2021-2022 season is confirmed to advance to the playoffs, the Warriors will launch the first series of functional NFT (Repontive NFT), and said that the FTX logo will be printed on the arena at the Chase Center this year.
On September 8, 2021, FTX announced that Curry would become its brand ambassador and shareholder. Subsequently, the Warriors cooperated with FTX to launch the championship ring NFT, setting a new price record for sports-related NFTs. The six-in-one championship ring was auctioned for 285.111 Ethereum (approximately 1.06 million US dollars).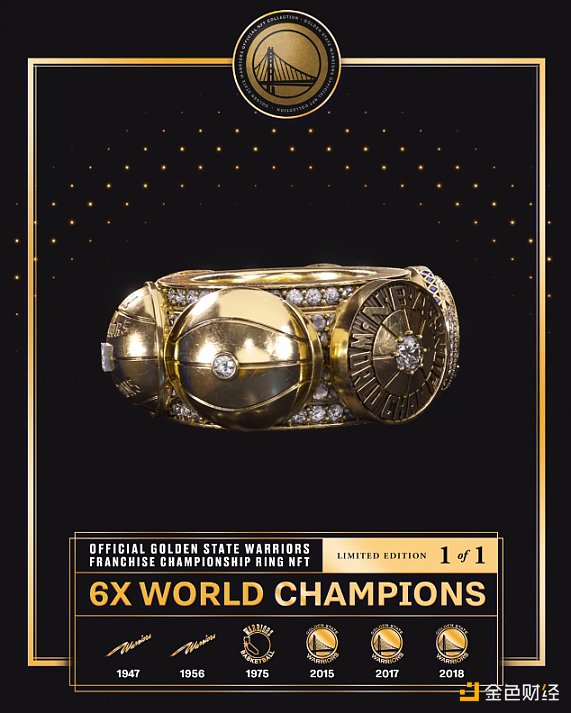 Unlike the "frightened" Brady, Curry has not deleted the tweets that he claimed for FTX. As of press time, there are still 13 tweets related to FTX. The influence spares no effort to promote FTX. From the beginning of "Welcome to the FTX family", Curry used his own platform to stand for FTX again and again.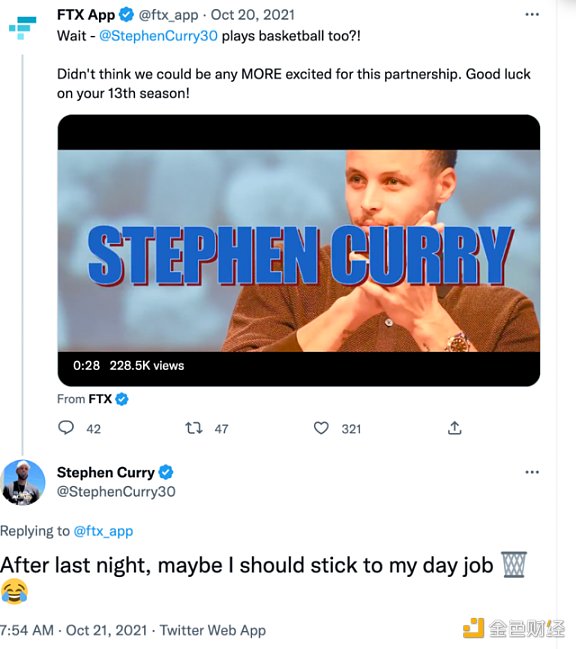 At the same time, Eat.Learn.Play., the foundation established by Curry and his wife, also cooperated with FTX many times to carry out charity activities. Regarding this cooperation, Curry once responded: "The field of crypto investment in the past was quite mysterious, and FTX is constantly making crypto investment easier for everyone to accept, so that everyone is no longer afraid of cryptocurrency."
In a promotional video filmed with O'Neal in March this year, Curry even said that FTX helped him become an "expert" in cryptocurrency trading, and said: "With FTX, I have everything I need to trade safely."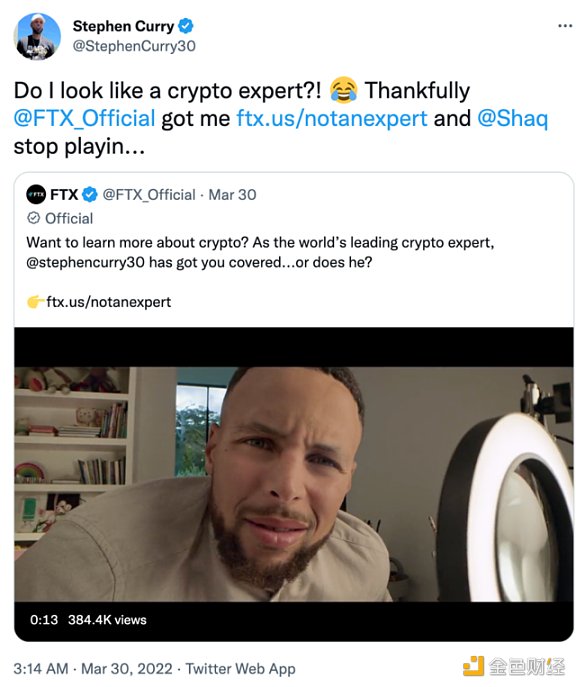 According to media reports, Curry's cooperation with FTX may have further contributed to FTX's $10 million sponsorship and subsequent partnership with the Warriors.
The team's poor record in the new season, and the implicated by the bankruptcy of its partners, the Golden State Warriors are in the predicament of "the house leaks and it rains all night". The Golden State Warriors said in a media interview last week that they would suspend the promotion of FTX-related products after giving away the Jordan Poole bobblehead doll sponsored by FTX.
Kardashian lost 1.26 million, how much will they lose
FTX's sudden bankruptcy cost U.S. investors more than $11 billion, according to a lawsuit filed in Miami on Nov. 15. FTX has 5 million users worldwide and traded more than $700 billion in cryptocurrencies last year, according to data.
Following media reports that Brady and Curry, among others, are being investigated by Texas regulators, Texas Securities Commission Enforcement Director Joe Rotunda said in an interview with the media that they are reviewing payments received by celebrities for endorsement of FTX , this incident is the most important lesson to be taught to them. Rotunda says:
Although the investigation of celebrity endorsements is not the most urgent at the moment, it is still the focus of regulators after FTX's bankruptcy and liquidation. For celebrities, the instant downturn of FTX can make them realize that hyping cryptocurrencies will cause major problems in terms of reputation, legal risks, and regulatory risks, which is an important lesson for them.
Law professor John Olson said if celebrities don't do their research before promoting the investment, they're probably misrepresenting it. Olson said:
If a famous person says, 'I researched this investment and it's great, you should put your money in it' — and they haven't researched it when they say that — that's false advertising. If the promoted investments are considered securities, they are also violating securities laws.
Lawyer Demetri Bezaintes said that with the bankruptcy of FTX and the decline of Bitcoin, a bigger storm is coming, and more lawsuits are expected against celebrity spokespersons in the United States and other countries, including many investors in South Korea, Singapore and Japan.
This isn't the first time celebrities have gotten in trouble for promoting cryptocurrencies. Last month, Kim Kardashian was sued for promoting the EthereumMax token on her social media platform, because she did not tell investors that she had received a $250,000 promotion fee. In order to learn about the case as soon as possible, Kardashian agreed to pay $1.26 million to settle and promised that there would be no publicity about cryptocurrencies in the next 3 years. How much do these celebrities have to lose?