966 Unpacking Analysis: Professional long-short leveraged trading!
Share a stable and profitable trading system
Let me show you today in history. On March 12, 2020, BTC and ETH plummeted by 60% in two days. Therefore, you must know how to be in awe of the market!
Let's look at BTC first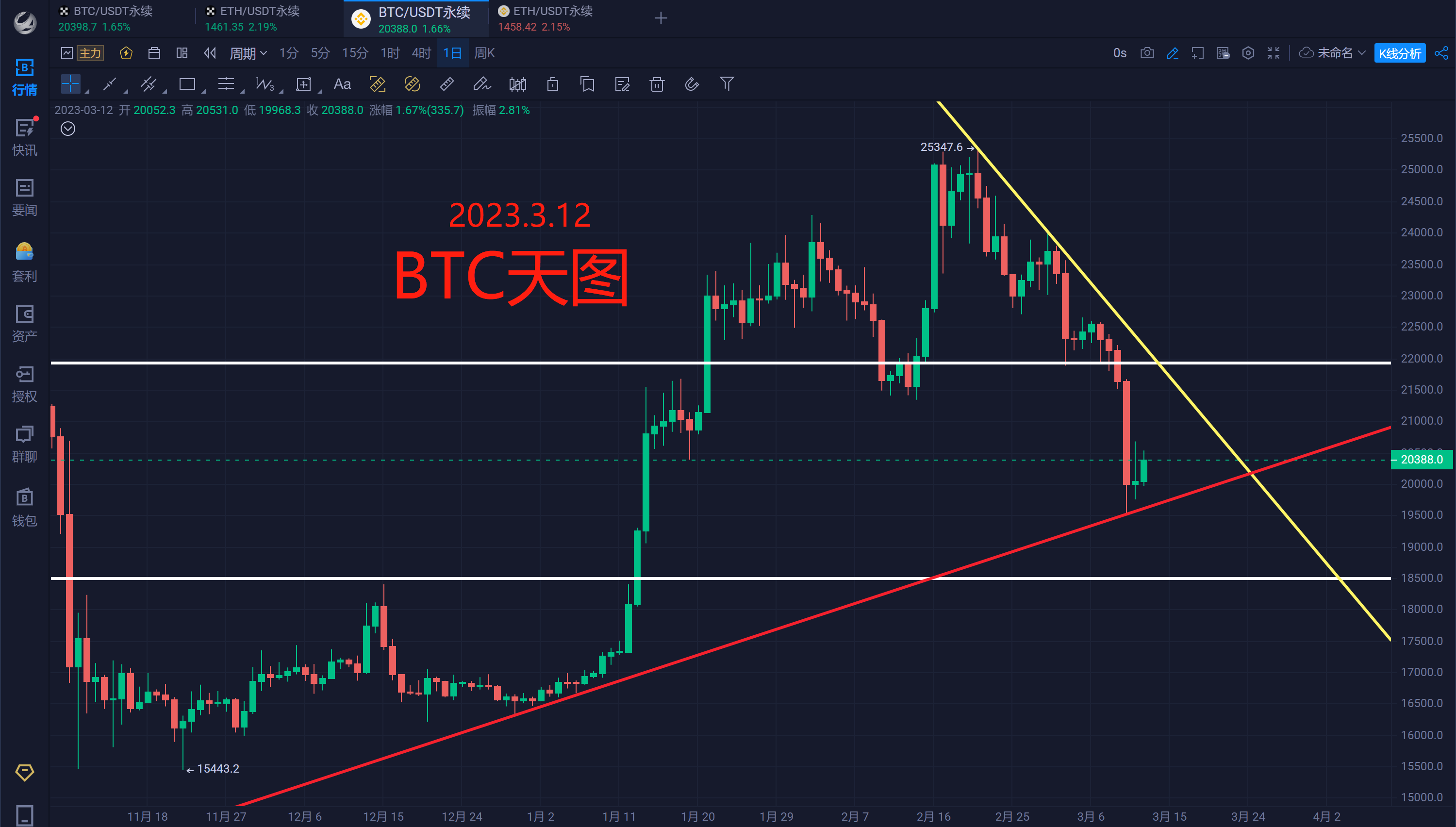 Let's look at the sky map of BTC. Yesterday we made a trading plan in a general direction. Today we are making a trading plan in a small direction, which is more detailed. Today, the author drew a yellow downward trend line and some red upward trend lines. Now BTC is in a triangle, which is farther away from the downward trend line and closer to the upward trend line. In the later period, as long as the candle chart reaches the downward trend line, it will short rallies, and if it breaks through, it will stop. Because the general direction is now short, so we mainly focus on empty orders, and don't be right with the trend.
When the candle chart falls below the rising trend line, we will consider buying more orders, because if it falls below the rising trend line, we will not be far from the white horizontal line below. At this time, we can place more orders. Only when there are enough drops, we will consider buying more orders .
Let's look at ETH again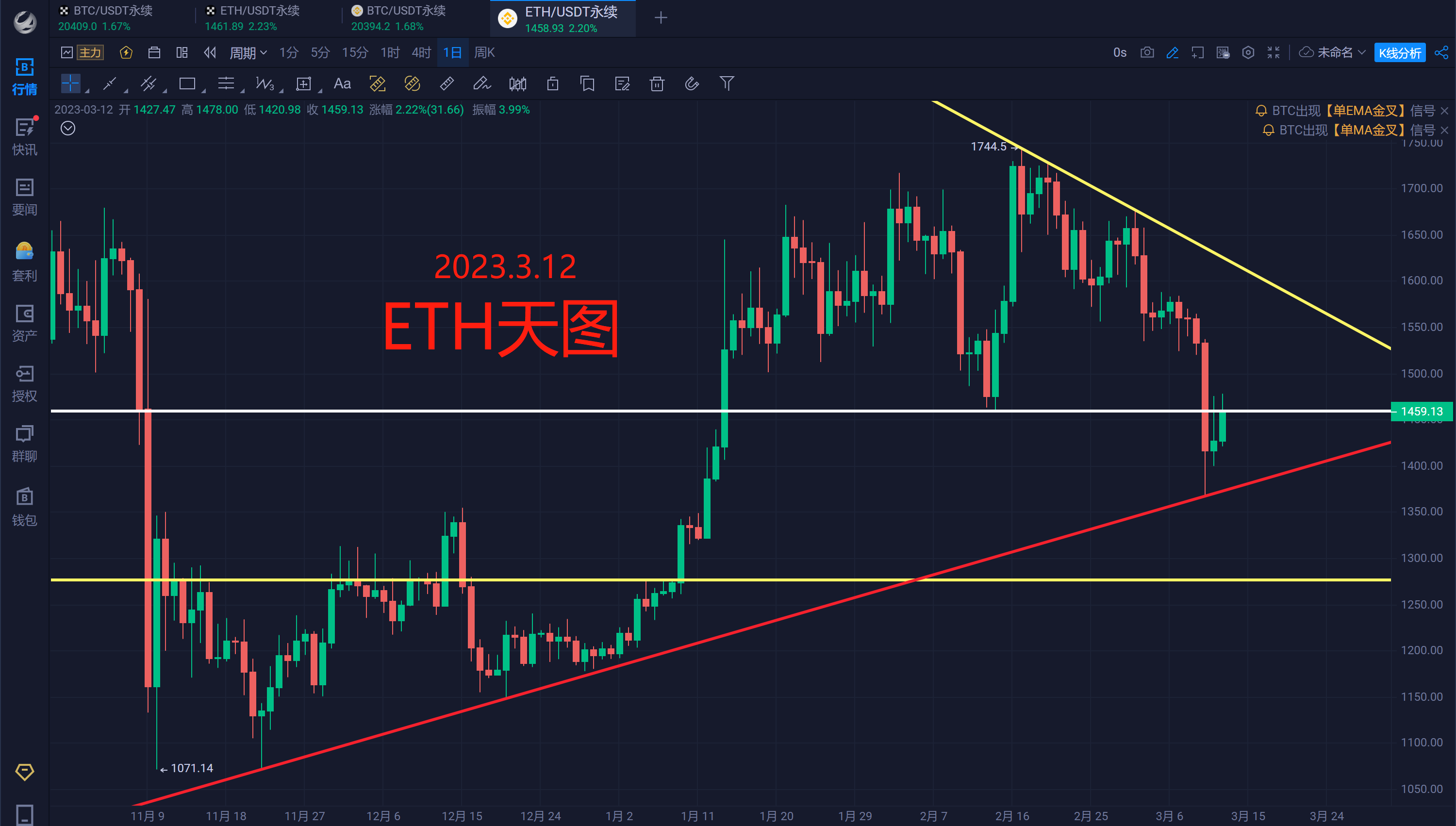 Look at the sky map of ETH. The author also drew an upward trend line and a downward trend line. The upward trend line is support, and the downward trend line is resistance. Everyone knows this. At present, ETH is suppressed by the white inflection point line. The author thinks that it is not easy to break through. We can place an empty order here, which is around 1460. All the partners in our group are on the bus. ETH should also be short on rallies, which is consistent with BTC. The interpretation of ETH is consistent with BTC. Refer to BTC.
Today, the author will talk to you about the benefits of 1% position, 100 times leverage, 1% position, in fact, it is the full position of spot buying. Everyone knows that spot stock will not explode, and it is very stable. It is only temporarily quilt. Carry it back. For a 1% position, if you open a long position, the position will be liquidated if it drops 100%, but since the birth of BTC, there has never been a day when it has dropped 100%, at most it is 50%, but it immediately rises back later, such as the 312 big plunge In the next 2 months, they all returned and broke through the previous high. So if you understand the wisdom of 1% position, your order will be very simple. To put it bluntly, you can open a position with a 1% position without setting a stop loss, because it is impossible to lose 100% or 50% of the market. It is only once a year or two, so there is no possibility of liquidation.
If you think that the 1% position is small because your principal is too small, and you can't make much money in spot trading with a small capital, you have to admit this, so you will play in the leveraged market. But you also need to know that the leveraged market magnifies the risk dozens of times or even 100 times, and has extremely strict requirements on position management. The leveraged market will amplify people's greed and animal nature, which is why many people lose money and liquidate their positions. It's not 100 times risky, but your position is too heavy. Generally, there is no such thing as leverage management in the trading industry, only position management, that is, fund management. If you don't know how to manage funds, you will gain nothing in this market. If you make a lot of money, even if you make money, even if you make a lot of money, it is temporary. You will keep it with you temporarily, and you will lose everything because of your heavy position in the end, without exception.
Therefore, I hope that our "966 analysis" friends must learn to use the 1% position method like the author. The author also recommends that everyone use 100 times leverage uniformly, why? Good reckoning! You use 20 times, 30 times, 50 times, your position and increase often have to be converted before you know the profit-loss ratio, 100 times leverage is the same ratio as the spot, everyone knows, and 1% of the position, even if you are trapped, you In the future, it is also easy to do position management of margin call, margin call 3-5 times, where can you lose? If you have a heavy position, the first order may destroy you. Don't be afraid that you will not waste it. Others make money, and you carry the order to protect your capital. If you work hard and die, you still don't make money. What's the point? Did every big loss and liquidation before you be caused by heavy positions? If you don't take heavy positions, if you get back your capital, are you particularly rich now? Haha, so, everyone, go and feel it!
This is the end of today's sharing, see you tomorrow!
Investment is risky, you need to be cautious when entering the market!
Personal opinion, not any investment advice!
Trading is easy, as long as you can wait
Trading is hard, no one wants to wait